We are thrilled to introduce you to our exclusive 4×4 Camper Package, designed to offer you an unforgettable adventure exploring the scenic beauty of Nepal. Our all-inclusive package provides you with everything you need for an extraordinary journey.
Package Includes:
     

Fully Equipped 4×4 Camper Van:
Our camper van is equipped with foldable and modern amenities to ensure a convenient and cozy experience yet not taking much of a space.
Along with the camper van with a fixed tent on its roof, we provide an additional high-quality tent that you can set up at your preferred camping spot. This adds flexibility to your accommodation options if you are more in number.
Our package includes a portable stove, utensils, pots, and pans, enabling you to prepare delicious meals on the go. You can enjoy cooking in the breathtaking landscapes.
Sleeping Arrangements:
     

We provide comfortable mattresses, pillows, and blankets to ensure you a good night's sleep.
Outdoor Furniture:
     

You can have the dining experience amidst the beauty of nature with our folding chairs and table, perfect for enjoying meals under the open sky.
Kitchen Supplies:
     

Complete your camping kitchen with a set of plates, cups, cutlery, and essential cooking ingredients and tools. 
Camping Essentials:
     

To enhance your experience, we provide lanterns, torches, and other camping essentials to ensure your safety and comfort.
Local Guides (Optional with additional cost):
     

Our package includes valuable information about local attractions, maps, and guides to assist you in planning your route and exploring the best that Nepal has to offer.
Following are some of the recommended locations near Kathmandu where you can take our camper van for your adventurous travels.
Hattiban
For beginners, Hattiban is the perfect camping spot. It is close to the valley and has a lush pine forest. If you are a hiker, you can climb up the hill to Champadevi Hill and witness the grandeur of the mountains and Kathmandu Valley. The camping spot is quite nice too. There might be other campers, but don't worry, the hill has a lot of places where you can camp. If you are uncomfortable, you can go to the Hattiban Resort too.
To avoid tension with the locals, it is better you seek permission and pay a small fee before you enter the community forest. Locals around the area will help you out with firewood too.
Hotel Nearby: 1. Solid Rock Lodge (Contact No. 9823233093) 2. Hattiban Resort (Contact No. 980-1309842)
Nearby Police Station: 19KM from camping sites
Hospital: Sumeru Hospital (Contact No. 01-5275105)
Camping sites distance from town: 20KM
Picture Credit: Travel Journey
Shivapuri National Park
Another place that is close by and has multiple camping spots is Shivapuri National Park. For beginners, Dandagaun is perfect as there are people in the area who can hook you up with wood, water, and if inconvenient, a bed to sleep on.
But, for the adventurers, Tarebhir is the best place to camp as it is a lot more peaceful than Dandagaun which has a few hotels along the way. But, there is a downside too; you will have to carry everything from firewood to water in advance, to get there. The other downside of this place is that there will be a lot of hikers during the weekend so it is better to get there during the weekdays.
Hotel Nearby: 1. Green Valley Resort (Contact No. 01-5248092) 2. Shivapuri Heights Cottage (Contact No. 984-6232271)
Nearby Police Station: 6 KM from camping sites
Hospital: Budhanilkantha Medical Center (Contact No. 984-1323079)
Camping sites distance from town: 13KM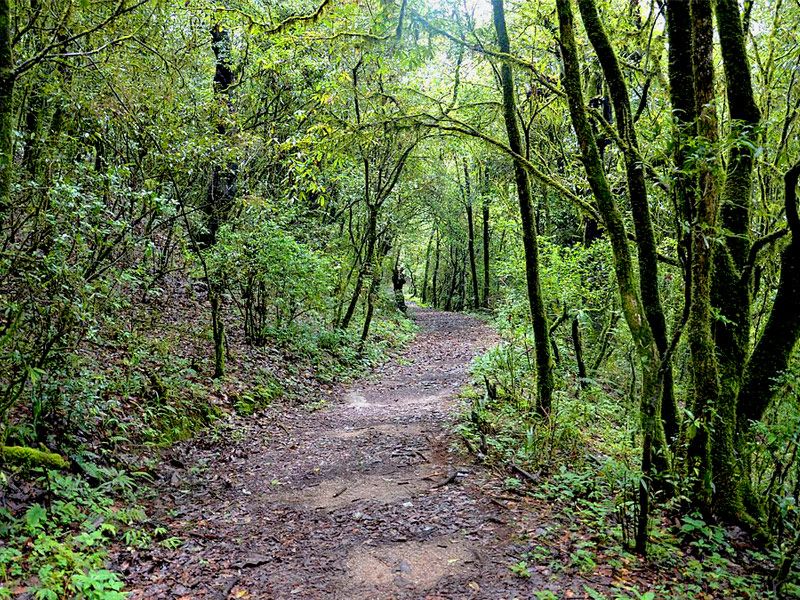 Picture Credit: Himalayan Odyssey
Also Read: Top 10 Must-Visit Destinations in Nepal During Dashain: Embrace Culture and Scenic Splendor Without Trekking
Kakani
Kakani has its own unique charm. Another destination close to the Kathmandu Valley, the place is untouched. The hamlets are extremely pretty and you get to witness the mountains along with rolling hills from there. The place is also ideal for stargazing. The best time to get there is during the spring when rhododendrons blossom. You can get firewood from houses around the village and it is better to seek permission if you are setting a camp next to them. If you are going to a hilltop, it is not necessary to seek permission, but there have been incidents where locals cause hassle so better to be safe than sorry.
Hotel Nearby: 1. Hotel Mystic Kakani (Contact No. 984-3671472) 2. Gurung's Home (Contact No. 01-4957810)
Nearby Police Station: 2KM from camping sites
Nearby Hospital: Kavresthali Medical Hall (Contact No. 01-5106422)
Camping sites distance from town: 23 KM
Picture Credit: Adventure to Nepal
Lakuri Bhanjyang
This place is just magical. The sunset from Lakuri Bhanjyang is too good to miss. Like Kakani, there are so many camping spots, but the best is the one close to Ganeshman Park. The night view of the Kathmandu Valley is a remarkable sight. Getting there is easy as you can easily dive up to these spots on a motorbike or a car. Out of the places mentioned here, this might be the easiest and the best place to camp around Kathmandu
Hotel Nearby: 1. Lamatar Lodge (Contact No. 985-1026857) 2. The Terraces Resort and Spa (Contact No. 980-2322755)
Nearby Police Station: 1KM from camping sites
Hospital: Care & Cure Multispeciality Hospital (contact No. 01-5709273)
Camping sites distance from town: 24KM
Picture Credit: Nepal Traveller
Patlekhet, Balthali & Bethanchowk
Kavre is a dream for campers because there are so many places to camp there. The majority of the district has beautiful hamlets and hilltops that are ideal for camping. For beginners, the Patlekhet area is best as it is close to the main road. Balthali is also a nice place to set camp. The hilltop above Balthali has a few spots but is quite a climb to get there. Bethanchok in the southern part of the district is probably the best place to camp. But, getting there is a challenge and it gets very windy during the evening, so carry as many warm clothes as you can.
Hotel nearby: 1. Balthali Mountain Resort (Contact No. 011-416022) 2. Patlekhet Eco Farmhouse (Contact No. 984-1777399) 3. Dhunkharka Homestay (Contact No. 984-1072631)
Nearby Police Station:  4KM from camping sites (011-490100)
Nearby Hospital: Namobuddha Health Care (Contact No. 011 404019)
Camping sites distance from town: 40KM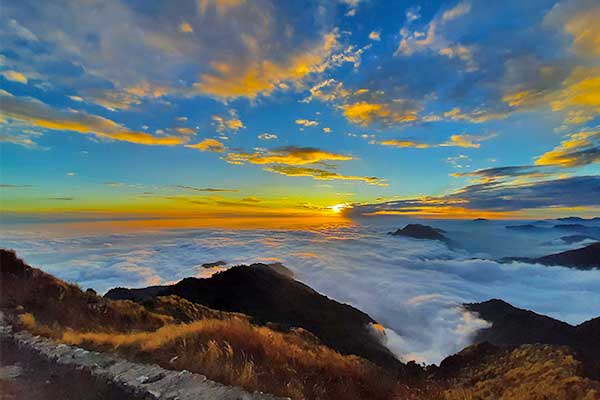 Picture Credit: Nepal Mountain Trekkers
Jarsing Pauwa
Jarsing Pauwa is a beautiful place situated near Kathmandu city. It is a perfect escape for the refreshment from the busy schedule. There are a lot of things in the surroundings of this beautiful place. You can see the spectacular Himalayas, mountains, and astonishing villages. There are some hotel options as well if you want a little luxury. However, for an authentic homestay experience, some good homestays with incredible hospitality will make your time fruitful and memorable. If you want to have some camping in this beautiful place, it is truly amazing. The tent and gears beneath the open sky are probably the best part that this place has to offer.
Hotel nearby: 1. Heaven Hills Resort (Contact No. 9849890580) 2. Jarsing Resort (Contact No. 9851005755)
Nearby Police Station:  4KM from camping sites (011-490100)
Nearby Hospital: Jarsing Pauwa Community Health Post (11min walk)
Camping sites distance from town: 22 KM
Picture Credit: Worldwide Elevation Map Finder
Kutumsang
Khutumsang in Helambu is quite a ride away, but the views from there are breathtaking. Ideally, a weekend trip due to it being around five hours away, Khutumsang is known for its jaw-dropping sunrise and views of the valleys beyond. Located at an altitude of 2,500 meters, you will get an up-close view of the Himalayan range. The people there are lovely too so make sure you get there when you have a chance.
Hotel nearby: 1. Hotel Namaste & lodge (contact No. 980-3581027) 2. Helambu Resort (Contact No. 984-3562740)
Nearby Police Station:  Sera Police Station, Melamchi (9857690095)
Nearby Hospital: Kutumsang Health Post (986-0807978)
Camping sites distance from town: 28KM
Picture Credit: Nature Lover Treks & Tours in Nepal
Get ready for an extraordinary journey through Nepal's captivating landscapes via our camper vehicle! We look forward to being a part of your adventure through Spark Adventure.