Nepal, often called the "Land of the Himalayas," is a paradise for trekkers and adventure seekers. With its awe-inspiring landscapes, diverse culture, and welcoming locals, Nepal offers an unforgettable trekking experience.
Nepal boasts a multitude of Himalayan peaks and their respective base camps, yet some have achieved unparalleled fame among trekkers. These destinations witness a significant influx of visitors each year, making them the top choice and ultimate destination for those seeking an unforgettable Himalayan experience.
These treks are not just about reaching the base camp; they provide an exceptional opportunity to immerse oneself in the culture, lifestyle, landscapes, flora, and fauna of the Himalayas. Base camp treks have become a hallmark of Himalayan exploration in Nepal, drawing a multitude of enthusiastic trekkers.
The allure of Himalayan trekking and touring is truly captivating. These journeys offer travelers an extraordinary chance to witness the majestic mountain ranges while experiencing the warm hospitality of the Nepali people. Among the various Himalayan treks, base camp trekking in Nepal stands out as one of the most exceptional and sought-after adventures.
Here are the top 5 trekking destinations in Nepal that should be on every adventurer's bucket list:
Everest Base Camp Trek:
Home to the world's highest peak, Mount Everest (Sagarmatha) with a height of 8848.86m above sea level, this trek is an absolute classic. Each year, several hundred tourists come here, making it one of Nepal's occupied trekking regions. The Everest region is busier in the spring and autumn, as well as during some of the winter months. The journey offers an opportunity to see Sherpa culture and lifestyle, as well as breathtaking views of the mountains up close, a variety of flora and wildlife, rivers, and a surprising amount of Himalayan beauty.
 It takes you through the lush forests of Sagarmatha National Park, remote Sherpa villages, and finally the iconic Everest Base Camp. The views of the Khumbu Glacier and the towering Everest are simply breathtaking.
Picture Credit: KimKim
The EBC trek typically spans a duration of 12 to 16 days, allowing trekkers to customize their itinerary and seamlessly transition into the next leg of their journey without incurring additional fees. This trek offers an extraordinary and unforgettable lifetime experience. If you're contemplating an adventure to the Everest Base Camp, be sure to explore the Everest Base Camp trek.
Annapurna Base Camp Trek:
Known for its variety and beauty, the Annapurna Circuit offers a diverse trekking experience. Nestled in the heart of the Annapurna Himalayas, this trek offers a breathtaking journey through lush rhododendron forests, charming Gurung and Thakali villages, and awe-inspiring landscapes.
As you ascend towards the base camp, the beautiful backdrop of snow-capped peaks, including the iconic Annapurna mountain, unveils itself. The final destination, Annapurna Base Camp, is a heaven for mountain lovers surrounded by towering Himalayas, where you can witness the sunrise painting the peaks in golden hues. This trek is not just a physical journey but a profound cultural experience, as you connect with the warm locals and savor their traditions.
Picture Credit: Exciting Nepal
The allure of the Annapurna Base Camp trek lies not only in its natural beauty but also in its accessibility and diversity. The trail caters to a range of trekkers, from beginners to seasoned adventurers. Along the way, you'll encounter terraced fields, suspension bridges, and natural hot springs, adding to the tapestry of experiences.
The trek ends at the base camp, which is 4130 meters above sea level. The journey may be finished in 12–14 days, and it is better suited for people who want to view the Himalayan mountain range and other well-known summits. Spring and autumn months are much better for the base camp trek.
Also Read: Top 10 Must-Visit Destinations in Nepal During Dashain: Embrace Culture and Scenic Splendor Without Trekking
Langtang Valley Trek:
Closer to Kathmandu, the Langtang Valley Trek is a hidden gem nestled in the heart of the Nepalese Himalayas, offering an incredible journey through lush forests, pristine lakes, and picturesque valleys. This trek is known for its tranquility and serene landscapes, making it a perfect escape from the hustle and bustle of daily life.
As you trek through rhododendron forests and charming Tamang villages, you'll be captivated by the stunning views of the Langtang Lirung and other snow-capped peaks. The trek also takes you to the high mountain lakes of Gosainkunda, adding an extra layer of adventure to your journey. The Langtang Valley Trek is a rewarding experience that allows you to connect with nature while exploring the unique culture of the Tamang people.
Picture Credit: Adventure Alternative
The Langtang Valley Trek boasts a trekking duration of 9-12 days, immersing adventurers in the stunning landscapes and cultural richness of the region. Each day on the trail typically spans from 4 to 8 hours of trekking, allowing trekkers to soak in the breathtaking scenery, from lush forests to high mountain valleys. The highest point of this trek is the magnificent Kyanjin Ri, which stands at an impressive elevation of 4,773 meters above sea level. As trekkers ascend to this lofty point, they are rewarded with panoramic views of the Langtang Lirung and other majestic peaks, making it a truly memorable and awe-inspiring journey in the Himalayas.
Whether you're a seasoned trekker or a first-time adventurer, the Langtang Valley Trek promises an unforgettable and harmonious blend of natural beauty and cultural richness.
Manaslu Circuit Trek:
This trek circles the Manaslu mountain range, showcasing pristine wilderness and rich Buddhist culture. You'll journey through lush forests, terraced fields, and picturesque villages, including the medieval village of Samagaon. The serene surroundings and the Larke Pass are major highlights.
The Manaslu Trek, a challenging and awe-inspiring adventure, unfolds over a duration of 13 to 17 days, depending on your chosen itinerary. It is renowned for its difficulty and the demanding terrain it encompasses. The trek commences at an elevation of 941 meters (3,087 feet) in the town of Arughat and ascends to its pinnacle at Larkya La, a mountain pass standing at a staggering 5,213 meters (17,103 feet).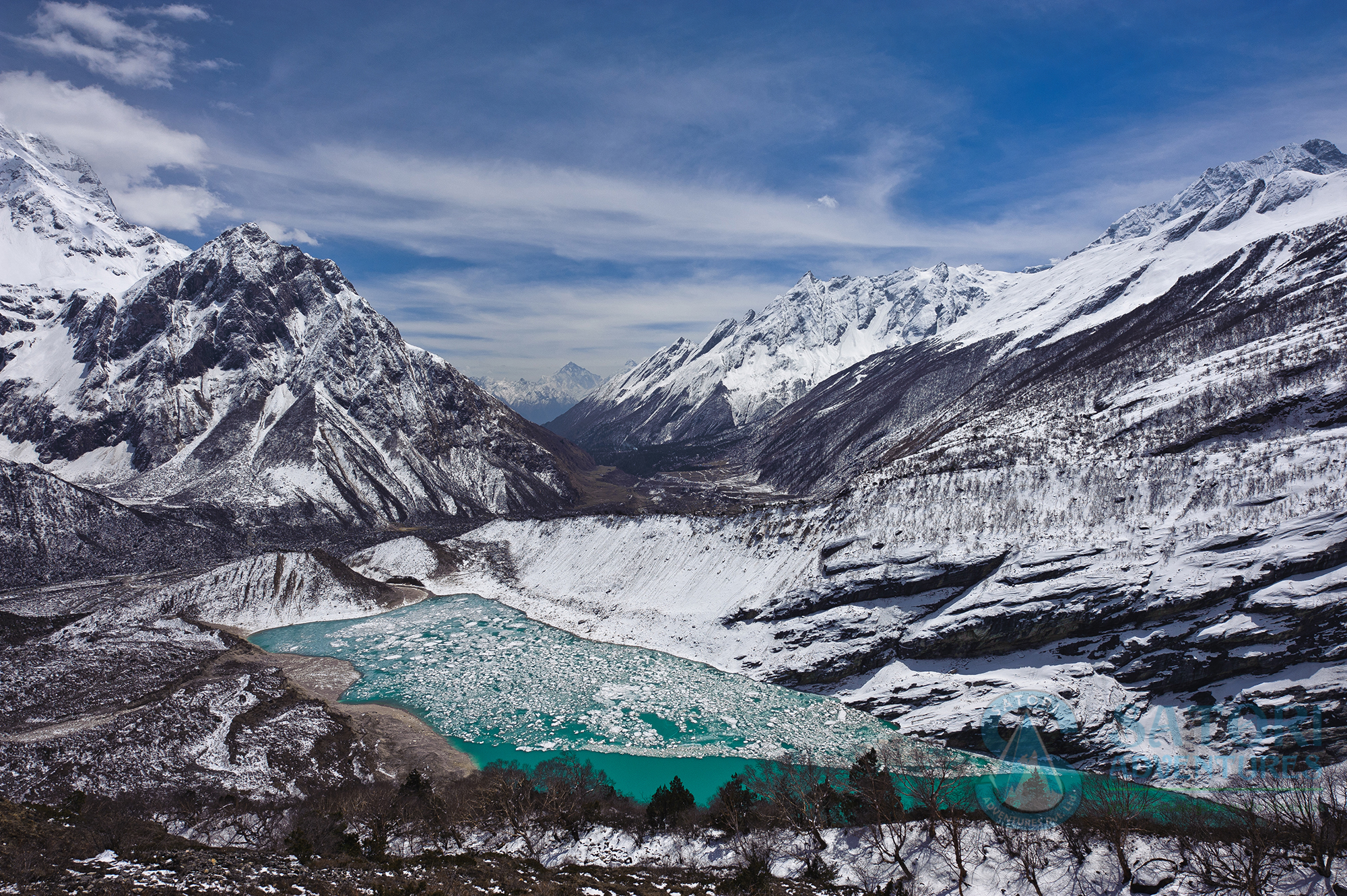 Picture Credit: Satoria Adventures
This trek offers a unique and enriching experience, taking you through a diverse range of landscapes, from lush lowlands to high mountain passes, all while providing spectacular vistas of the Manaslu region's pristine beauty. For adventurers seeking a challenging and rewarding Himalayan journey, the Manaslu Trek stands as a remarkable and unforgettable choice.
Also Read: Visit Nepal & Make Memories of a Lifetime with Spark Adventure
Makalu Base Camp Trek:
The Makalu Trek is a strenuous yet incredibly rewarding journey that starts and ends in Tumlingtar, providing an opportunity to explore the magnificent Makalu region. Spanning a duration of 17-21 days, this trek offers a unique blend of adventure and natural beauty. The trekking route includes a flight to Tumlingtar, and it unfolds against the backdrop of the mighty Himalayas, reaching a maximum altitude of 5,100 meters (16,732 feet).
The Makalu region is known for its rugged and pristine landscapes, dense rhododendron forests, and authentic cultural experiences with local communities. For those seeking an off-the-beaten-path Himalayan adventure, the Makalu Trek is an excellent choice, promising unforgettable moments amidst the Himalayan grandeur.
Picture Credit: KimKim
For those seeking a more remote and less-visited area, the Makalu Base Camp trek is a hidden gem. You'll trek through Makalu Barun National Park, which offers diverse ecosystems, alpine meadows, dense forests, and the incredible Arun Valley. The towering Makalu and Chamlang peaks dominate the scenery.
If you want to travel by renting a car, you can rent it from Spark Car. You can also rent a car on self-drive from Self Drive Nepal.